Arty-Folks is #MovingBlue in Longford
We are thrilled Arden Estate Partnerships commissioned Arty-Folks to create artwork for the foyer of the Longford Primary Care Centre which houses three GP practices. The artwork was created by our members who attend online or face-to-face groups and was unveiled on World Mental Health Day October 10th 2020.
The artwork was unveiled on World Mental Health Day 10th October 2020.
As one of the sponsors of Coventry City of Culture 2021, they were keen to give exposure to local artists and artist-led groups that work in mental health such as Arty-Folks.
At Arty-Folks we usually support our members to create individual artwork for self-reflection, for therapy, and to build self-esteem. So we really enjoyed and made the most of the opportunity to work on a commission together as a team, from staff to volunteers to our members who attend our weekly online and face-to-face peer support groups.
Collectively we chose a bold and proud style with a down to earth and accessible message to put Longford on the map as an area of Coventry with thriving industries and popular beauty spots like the park and Sutton Stop.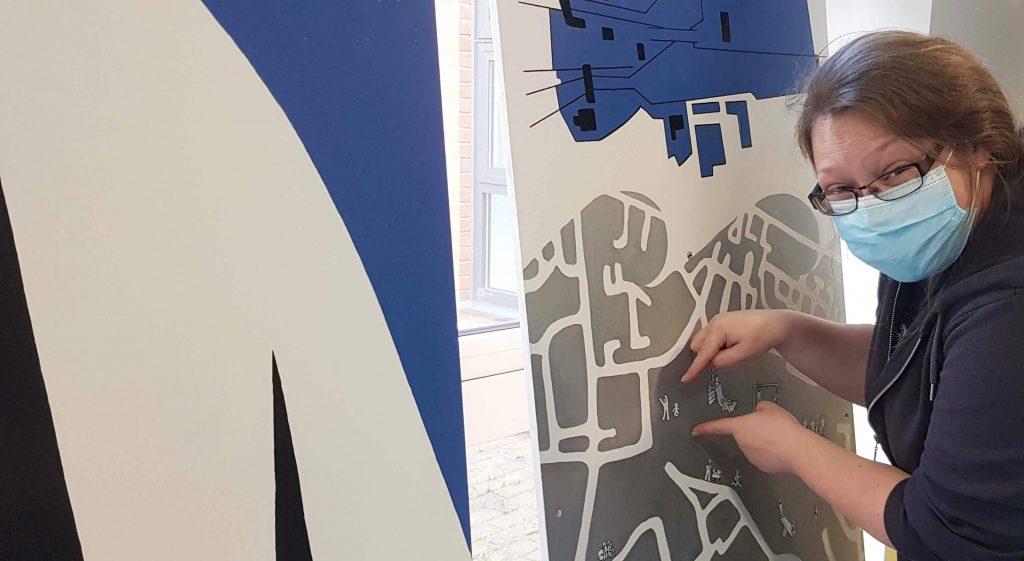 Liz: "I'm loving these, you don't usually see much humour in art. Our members have done a cracking job!"
17 members contributed to the artwork and after a few very long days and working into the night, all was completed in the nick of time!
Next time you are in Longford pop in to the Care Centre and use social media to tell us what you think of the panels. Make sure you look out for the tiny icons that we are sure will put a smile on your face!
About #MovingBlue
For this artwork we used 'MovingBlue', a specially designed blue paint commissioned for Coventry City of Culture 2021. In medieval times Coventry was famous for producing a blue dye with woad plants from the River Sherbourne, a beautiful rich blue that did not fade. The recipe for the 'True Coventry Blue' was a closely guarded secret and was never recorded in history, but this MovingBlue colour today is believed to be of a very similar shade.
For more information visit https://coventry2021.co.uk/explore/moving-blue/